Total of 1 products are displayed.
-%50
New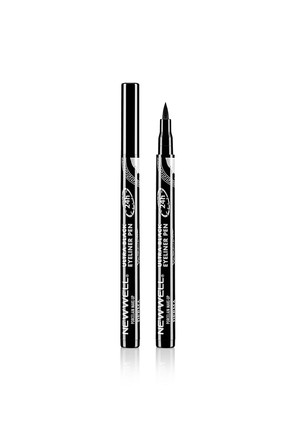 What is eyeliner?
You are late for work for the third time this week. But you're too embarrassed to tell anyone you come across that putting a decent looking eyeliner is definitely not a joke. And probably that's why you are here to master a few tricks that will make your life easier.
Eyeliners are one of many makeup products that women/men like you around the world can't live without. Many love wearing eyeliner to create the illusion of a thicker lash base. Enhance their eyes and bring them out. Easier said than done. Which is why you might see many people sharing their personal hacks and tips to get the best eyeliner you deserve.
How to apply eyeliner?
We will share with you three steps that will improve your eyeliner game and help you apply eyeliner like a pro:
Step 1: Prep your eyes
Don't underestimate this step. After cleansing your face, you should apply a moisturizer on your face and an eye cream around your eyes. The eye cream will help to prevent premature wrinkles. And eliminate any redness or discoloration around the eyes.
Step 2: Start with a clean base
Apply eye primer on the eyelid, under your eyes, and around the general eye area. The primer will help to make your skin smoother so that the makeup can glide on your skin. This will make the end result look flawless, also keep the makeup in place for a longer period. Apply concealer on top of the eyelid and under your eyes. Blend it well, and make sure to set it with a setting powder.
Step 3: The fun part (applying eyeliner)
Start with a line above your lashes. Make sure to use small lines and strokes. It's best to build it up. If you make it too thick, you might start looking for a redo button. Once you feel you're satisfied with one eye, repeat the same process for the other eye. Try to keep it as symmetrical as you can.
How to do winged eyeliners?
Looking for something little more advanced, and you want to try the winged eyeliner. We have your back sister!
The trick is to find the right angle, by following the natural line of the lower lash line. If a line extends from your lower lash line, that is where your liner should wing out to. It is best to map out the line and fill it in slowly.
Also, use a fine point liquid eyeliner pen to draw your line across the lash line. Stopping just the outer corner. Press against your skin to impart the color and make sure it flows into your before drawn line.
Take your time, If things get a little messy, or you create a heavier wing than you like. Use a Q-tip soaked in remove eyeliner liquid or eye makeup remover to clean up the line. You can also use concealer to correct smudges.
Eyeliner Types
Eyeliner Pen
Pencil eyeliner is for many the first eyeliner they tried out. Because it is the easiest to use. But also pencil eyeliner has a tendency to smudge and smear. To avoid "raccoon eyes" go for a pencil that isn't creamy or slick. But, also isn't stiff that it pulls your skin.
Gel Eyeliner
Gel eyeliner is every pro makeup artist favorite, because of its rich, smooth application, and long-lasting wear. Also, it's a great option if you have oily eyelids or live in a humid climate because they're less likely to smear.
If you always wanted those cat-ish eyes gel eyeliner could be your new best friend. We highly recommend you to try New Well's professional makeup eyeliner. Checkout our eyeliner products. Where eyeliner prices are worth your money.
Keep in mind to pick the right brush for your gel eyeliner, thank us later.
Liquid Eyeliner
Liquid eyeliners are the hardest to apply. Because they need steady hands to get defined lines, but if you master it you'll get a precise line every time. Liquid liners that come with a thin, fine-point, or felt-tip brush offer the most adaptability. to create a thick or thin line.