Total of 1 products are displayed.
-%50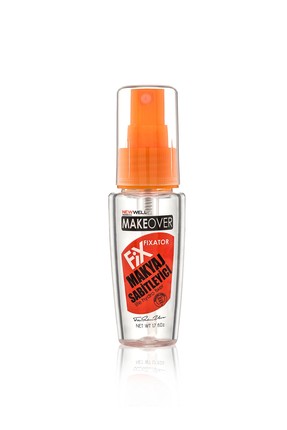 Makeup setting spray. You've probably seen them on your mother's vanity and YouTube makeup tutorials. But you're still wondering what in god's name they do? 
You are on heavy-duty like a performer or having a pool party and scared your makeup will be all over the place. Then Makeup setting spray is your to-go guy. It will help you keep your makeup in place while you're slaying your pool party. 
Take a deep breath, grab your cup of tea, and let us explain to you. 
What is makeup setting spray? 
Setting sprays blend and dim the layers of primer and makeup on your skin. It makes your look more seamless and holds everything together. So your makeup doesn't melt or slide. In simple English, it is like hairspray but for your face. The formulas of setting sprays are water-based and contain extracts like botanical oils.
And it is applied after your make up. You can find a great select of setting sprays for your skin and complexion. 
You can choose a spray catering to your complexion needs. For example, Make-up Stabilizer is the best setting spray for oily skin types. The polymers inside create a solid wall on the skin. And prevent the makeup products from slipping on your skin.
What does makeup setting spray do? 
Makeup experts agree that makeup setting spray helps your makeup stay on your face longer. You spray it on after you have finished applying your makeup. But, sometimes if you need it something more waterproof, you spray it after each step of a makeup application. For example, after base, eyes, blush, powder, and so on. Now you can show your contours without fear. The contour palette that you always desired.
Also, many makeup experts say the setting spray is ideal for heavy-duty wear. In events such as weddings or a poolside. It does the job.
Makeup fixator spray prices really depend on the product and performance balance. Also, the desired brand. 
What is the best makeup setting spray? 
Now let's share with you some of the best makeup setting spray criteria. 
There are a lot of setting sprays out there, from long-lasting mattes to dewy and natural mists. To find the best makeup setting spray you need, look for these things. First of all, it doesn't contain any alcohol, paraben or SLS. It doesn't leave a sticky feeling on your skin after application. Also, you should select your setting spray based on your skin type 
Best Makeup Stabilizer Spray: New Well 
New Well stabilizers have always had great feedback from its users. We're committed to delivering products that are at the top to present to you the best makeup stabilizer spray and a quality that matches your money.
Choose the product that suits your skin type from two different stabilizers: Makeover and Black. These unique products are not affected by moisture, heat, sweat, and water. The beauty of your makeup will stay with you all day long. It's time to say goodbye to foundations smearing your cloth.
Visit our website for more makeup products like makeup remover and more. Products that are worth your money.